All about Netflix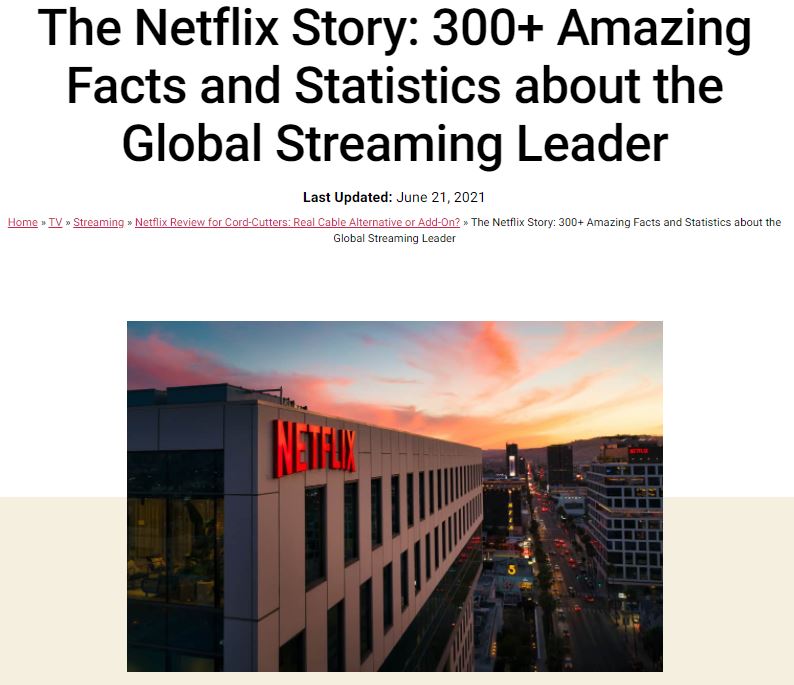 KillTheCable Bill.com is one of those really useful websites that let you know where and how to get the TV content you want for less money. In this case, we were impressed with an article all about Netflix.
To quote the website, "….simple but detailed information for cord-cutters to get the best possible experience without cable. You will learn where and how to stream different channels, what individual streaming services offer, and how to be cost-effective with your chosen streaming device."
So why am I posting a news article about Netflix? Welp, they have a page dedicated to the streaming service which is fascinating. It's called: 'The Netflix Story: 300+ Amazing Facts and Statistics about the Global Streaming Leader' and it's quite detailed.
When killthecablebill.com contacted to see if I was interested in the article, I skipped over there and read it. If you use or are interested in Netflix, you should check it out! I use Netflix a lot and review many of their original content shows and it's a good read.
I was particularly interested to see information on Netflix market share as I personally watch at least 50% of programmes on Netflix with subtitles i.e from other countries and continents – seeing how Netflix is doing in these regions was certainly of interest.
The email read: "At KillTheCableBill.com we've just published a huge report on Netflix, filled with fresh 2021 statistics and trends. The report includes our own original research as well as that of top players like Morning Consult and Ampere Analysis.
The report provides:
300+ up-to-date facts and stats, lots of full color charts, plus 2021 revenue and subscriber numbers
Our own original research – (You'll be surprised at the number of Netflix users that share their passwords!)
Insights into Netflix's content strategy
There are plenty of fun facts about award-winning movies, popular series, and 2021 content in the pipeline. We dive into things that bug fans too like: Why do some highly rated shows get cancelled?
You can learn more here:
https://www.killthecablebill.com/tv/stream/netflix/statistics/
Definitely worth checking out!