Posted
15th January 2020
in News
Star Trek Picard: Background and Series Information
This is an Introduction and Background to the Star Trek: Picard TV series airing in January 2020.  It will appear on CBS in the US and Amazon Prime elsewhere.  It is slated for 10 episodes.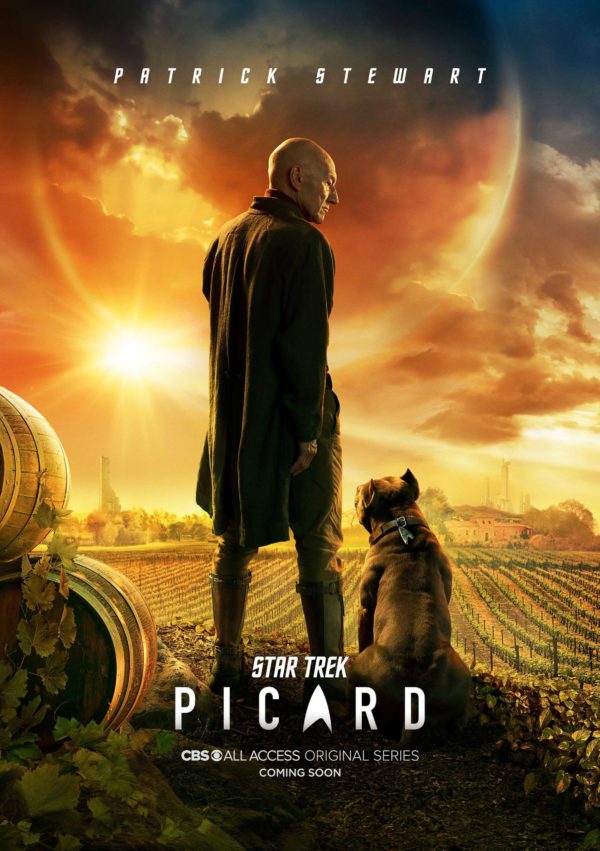 Star Trek: Picard is not a continuation of Star Trek The Next Generation although it is clearly a follow-on.  This is a series and we are excited to hear that many of the stars are reprising their roles. Some characters will not. The cast that have not been asked to reprise their roles are Michael Dorn (Worf) Gates McFadden (Dr. Beverly Crusher) and a number of others but for all we know, they may return for guest appearences.
The hugely popular Jeri Ryan (Seven of Nine) from Voyager and Brent Spinner (Data) will return along with Marina Sertis (Deanna Troi) and Jonathan Frakes (Will Riker). As above, I'm not sure how many episodes they will be in, but they are certainly slated for an appearence.
The Rumours Materialise
In May 2019, the CBS channel began publicising that (these were pretty unsubtle hints) that there would be a Picard Star Trek TV show. Later that month, the first teaser trailer arrived and then in July, a full trailer with Picard and other members of the crew. This is the CBS News item
Another trailer appeared in October 2019 and then there were lots  The latest announced the release date of the new show, 23rd December 2020.
Star Trek: Picard – Who is going to be in it?
Yeah, I know daft question but Patrick Stewart is only the second most popular Star Trek Captain ever and some would even argue he is greater than the minor deity known as Captain James T. Kirk!  His character is absolutely 'even-keeled' and many feel it justified that the titular icon should have his own show in the saga.
Also of note, Patrick Stewart will not be playing Picard as a Captain, apparently his rank has changed.  I'm not sure what, if anything, his military rank will be.
So What is it about?
There is actually quite a bit of controversy about the actual story-line.  CBS have said that this saga is set 20 years or so after the Nemesis. Patrick Stewart tells us it's 19 years further in the future (the same amount of time since he put on a Star Trek uniform for TV).
We have some clues from the trailers above, but essentially, the show starts when a nice lady comes to Picard for help – it's important enough for him to bother Starfleet about it.
Wots a Dahj?
Interestingly, we don't know who the nice lady is?  She is called Dahj and is played by the lovely (Isa Briones).  But who (or what) is she?  Is she a Borg?  Maybe she was ousted or escaped the collective in the same way Seven of Nine did. Perhaps she is Data's sister?  Maybe even a Human/AI hybrid – they can literally do anything as the Star Trek universe is so well established and set. There are very few Sci Fi shows with their own language, technology and established technology and catch phrases ('sub-space anomaly', 'Warp Drive, "it's life Jim, but not as we know it!" :).
Anyway, he and Dahj start an adventure together which means Picard needs to take on a new crew with some familiar faces. Hopefully they won't die off in the show too early!  They might do though, in the early part of the series, Picard seems to have a bit of a run-in with the Borg.
The great ex-Captain may be a bit cynical about his lot in life (or just happy to be away from Starfleet).  In one of the trailers, he is tinkering with his vineyard at Chateaux Picard seemingly oblivious to the universe around him and not particularly concerned with the politics of Starfleet Academy.
Star Trek: Picard – The Top Dog Mutters
Alex Kurtzman (the producer) told the Los Angeles Times, "The mandate was to make it a more psychological show, a character study about this man in his emeritus years. There are so few shows that allow a significantly older protagonist to be the driver."
he went on to say, "What happens when circumstances have conspired to not give him the happiest of endings? ….. "He's going to have to go through deep valleys to get back to the light."
Interestingly Kurtzman tells us that "It'll be very different than 'Discovery.' It'll be slower, more meditative. It speaks to the rainbow of colours we're playing with in all these different shows.".  That's a really interesting thing to say. It's possible that the show is aimed at older Star Trek fans rather than aiming to make new ones.
In a later interview with The Hollywood Reporter, Kurtzman went on to explain. "Picard's life was radically altered by the dissolution of the Romulan Empire". When the Romulans made a clone of him and let him loose to wreak havoc on humanity. This apparently, had a major effect on our hero.
The awesome Seven of Nine has managed to become fully human. She is missing a few borg parts but some still exist. I don't have much info on Data or the others.
Conclusion – Definitely going to watch!
Hanelle Culpepper will direct the first two episodes of the new series which starts on 23rd January. Apparently, she will be the first director to start off a series of Star Trek. It will initially be released on CBS in the USA and Amazon Prime in the rest of the world.
The images, story and everything else about Start Trek Picard the TV series is the property of CBS, Amazon Prime and Alex Kurtzman (I think, I'm still trying to find out who owns what – I know it's not me 🙂 ) all rights reserved.
This brief article intro is Copyright Tony Fawl.  Not for reproduction without permission.