Posted
6th December 2019
in TV Show
Summary rating from
2
user's marks. You can set own marks for this article - just click on stars above and press "Accept".
Accept
His Dark Materials – TV Show Review
His Dark Materials – TV Show – Introduction
I was dreading this show.  After reading the books a few years ago (as an adult) and being enthralled by them. Then, after watching the film and being disappointed by it. Now it's the turn of the BBC and HBO to offer us His Dark Materials – the TV show.  This is an eight part mini series based on the first two books.  It tries, where possible, to keep to the original story and the BBC spent a huge amount of money to ensure that the awe and splendour of the books was realised in the same way that the film ….. didn't.
For the most part, they succeeded and although they didn't completely, the series is certainly watchable and in many places fun. I guess it just isn't as good as the BBC think it is, some of it is great and some of it is a bit meh.  Casting was pathetic and the acting talent was poor except for the lead and Ruth Wilson.  Even James McAvoy seemed to be 'dialling it in'.  The overall quality of the show wasn't particularly good either.  It used to be that any drama that was produced by the BBC was guaranteed quality.  That certainly isn't the case these days.
Ruth Wilson and Dafne Keen are really good in this and many of the sets were marvelous and the special effects seamless and interesting.  However, I got that watch with mother 'patronising' feeling as though someone at the Beeb (UK slang for the British Broadcasting Corporation) thought that the show was too special – simply too good for us plebs. Because of this, parts of the story seemed over-explained even laboured.  I found myself saying, "cmon, get on with it" a couple of times which was a downer on an otherwise pretty good show.
His Dark Materials – Review
Lyra Belacqua (played by) is a precocious 14 year old orphan in an alternative Oxford, a strange steampunk sort of place with airships and naptha lighting. She has to travel to the frozen North to rescue her friend (a young man called Peter, who has been taken by a group of child snatchers. She discovers however, that the strange world she knows and loves is not as it seems and neither is her 'uncle Asriel' (played by James McAvoy). The uncle has discovered elementary particles called Dust and these are significant, but 'secret'. In fact the governing body, The Magisterium are keen than nobody should find out what Dust is or why it is used.
Lyra was originally taken to the school (called Jordan College) by her Uncle Lord Asriel. Apparently, he invoked the principle of "scholastic sanctuary" which means that she should be safe as long as she stays there.  Uncle Lord Asriel is actually quite a cool person and Lyra dotes on him.  Her friend, a young Gyptian boy called Billy is kidnapped by a group that is kidnapping children.  The Gyptians begin hunting for them.
The Master of Jordan College attempts to poison Lord Asriel!  It's a bit of a half-assed attempt.  Strangely, nobody seems particularly bothered about. Later in the first episode, Lyra discovers Dust and acquires a very important artifact called an 'alethiometer'.
The Key Couple
Most importantly, the first episode introduces Lyra to the magnificent Mrs Coulter and Lyra eventually decides to become her assistant.
Lyra and Mrs Coulter head out to London on an airship upon the promise that the missing boy can and will be found. Meanwhile, The Magisterium, a sort of all seeing and all powerful body of secretive ministers seem to be up to something in the background.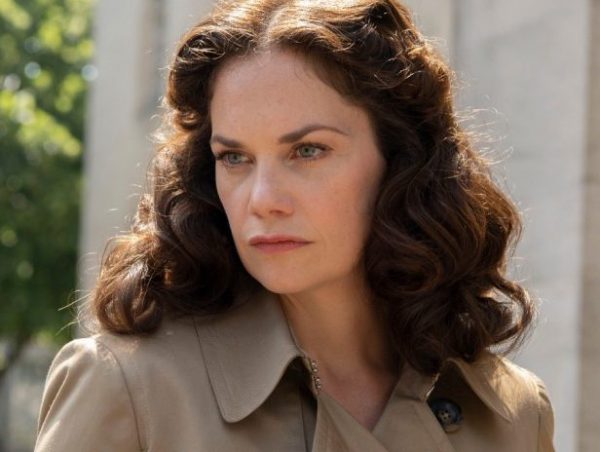 The second episode is still a little slow moving and those of us that had a problem with that would find it irritating us again in the second episode. But Lyra and Mrs. Coulter are fun to watch together and their characters seem better developed in the TV show than in the books (yeah, I know right!).
His Dark – Conclusion
Actually, the conclusion isn't that Dark, it's not a bad show and I'll definitely continue watching it.  I won't watch the rest of the shows until I complete watching The Boys (Amazon), NOVOLAND: Eagle Flag (Amazon), Mandalorian (Disney+), and a whole host of other shows that have recently surfaced this season.  Seriously, there is a lot of good TV stuff to watch leading up to Christmas.
What I liked about His Dark Materials is the acting. In particular the 14-year-old Dafne Keen was terrific and really brought the character of Lyra Belacqua to life.  Ruth Wilson too, as the marvelous Mrs Coulter, was just great to see.  She played a woman that was equal parts good and bad/flawed and had you watching intently all the time she was on screen. her interactions with Lyra were great to watch. there was also a welcome and  surprise appearance by Clarke Peters who played The Master. It was nice to see him after his awesome role as the evil Alonzo Quinn in the Person of Interest series.
A Tough Job
What may seem easy to describe/theorise in a book is considerably more difficult to do in a TV show. Especially when it's Dark themed and for all the family. His Dark Materials series has the difficult task of encouraging us to question our values of organised religion, consider how easily authority is or can become corruptible, and even try and rationalise the complex ambiguity of truth.  It has to do this is an entertaining way suitable for all the family.
For instance, what it must be like to have our souls embodied by little demons or at the very lease little furry animals?  It's a fun and slightly scary concept.  So far, the show as address all the expected moral ambiguities present in the books and that is really refreshing.
His Dark Materials is an impressively tough task for any TV production team.  Even more so when the audience comprise members of your whole family.  Did Auntie Beeb bite off more than it could chew?  I'm not sure yet, I haven't seen the complete series, but it's a relatively good start and well worth checking out.
Oh, by the way, this review was written before we saw the bears.  Maybe that would be a game-changer 🙂
Recommended!
I'd therefore rate His Hark Materials a promising 7.2 out of 10.
What did you think?  You can rate the show yourself by selecting the User tab at the top of the screen. Then click the starts to enter your values 1 to 10.  You don't have to register.
Pictures story details and everything else to do with this TV show are the property of The British Broadcasting Corporation, HBO and Philip Pullman all rights reserved.
Discuss this in the His Dark Materials topic in the General Sci Fi Stuff Forum
This review is by Tony Fawl and not for reproduction without permission.