Posted
19th November 2019
in Movies
Summary rating from
2
user's marks. You can set own marks for this article - just click on stars above and press "Accept".
Accept
Joker – Movie Review – Awesome…. of course!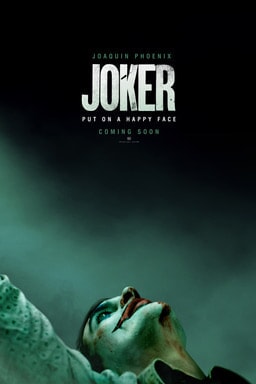 Before the film appeared in cinemas, it was getting some great press – I even did a Joker movie pre review HERE and if you want the latest news from this site about the film, checkout the Joker forum topic HERE. Since the movie stated to be shown in cinemas, I've read lots of reviews from all over the internet and media and I honestly think many missed the point – not in a bad way, but the reason for this Sci Fi SadGeezer review is to consider a slightly alternative outlook.
Joker is a nightmarish, gritty origin movie of a nasty and menacing super-villain. It isn't a 'nice' film, it isn't fluffy or fun and most reviewers see a story of a decline, a sad view of a man suffering to the point of breaking point. A few weeks ago, the Venice Film Festival awarded Joker, the Golden Lion prize. I think it won because the writers wanted to tell the story in a more innovative way. I think they wanted the conclusions to be ambiguous.
Who created it?
The movie was written by Todd Phillips (who directed "The Hangover", "Road Trip") and Scott Silver. It's is supported by a terrific musical and soundtrack by Hildur Gudnadottir which is dark and menacing, exciting and moody at all the right moments. There is also some wonderful cinematography by Lawrence Sher.
The magnificent Joaquin Phoenix is the titular laughing boy and he is supported by the Robert De Nero as the late-night Johnny-Carson-like talk-show host Murray Franklin.
What's it about
Phillips takes us back to a period in the story of Gotham City that is reminiscent of the Hill Street Blues era of New York City. It is dark and dreary, a seemingly hopeless period when nobody seemed to be able to get out of the rut. In fact, the environment seems to be Jokers worst enemy. There are no jobs and money is scarce except for the wealthy who seem to be oblivious to the suffering around them. Even Thomas Wayne (our very own batman's dad) refers to the poor as 'clowns'.
The mood of Gotham is exacerbated by a debilitating garbage strike causing rubbish to be piled up in the streets and vermin to run freely. The excellent screenplay included references to the macro cosmos of the garbage strike and the similarity with the life of the people in Gotham. The oppressed poor are jokingly considered clowns by the super rich as they enjoy the luxury of life in their ivory towers. They are untouchable and aloof. On the other hand, the oppressed people of Gotham listen to reports that the rats thriving in the piles of rubbish were becoming super-rats. In the current economic climate, rich people and rats cause the people of Gotham strife – the rich are rats.
Arthur Fleck is a citizen of Gotham trying to eak out a life as a professional clown in a small troupe. He isn't very good but he is enthusiastic and enjoys his work./ I doesn't pay well, but he earns enough to help his invalid mother and although life isn't particularly good, it is bearable. There is even a small amount of hope. Unfortunately Fleck has a mental condition that makes him laugh uncontrollably in some situations, often at awkward moments. He carries a card to help explain this to people who may be offended.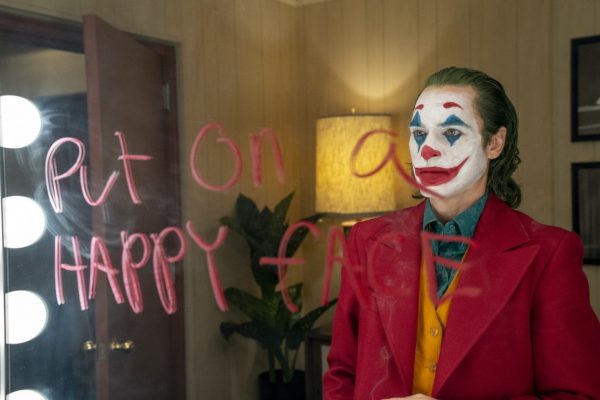 Alas, a series of circumstances gradually reduce that hope to almost nothing. He is fired from his job, he learns (wrongly) that he is the son of Thomas Wayne and also learns that the reason for his illness is probably because he was mentally and physically abused by his mother when he was young. He is belittled, attacked and ridiculed by rich and poor alike and gradually he concludes that doing bad things, isn't actually that bad.
Joker Movie (2019) conclusion
Many reviewers talk about the journey of self destruction, the gradual decline of the clown, Arthur Fleck. Personally, I found it a story about finding truth, an enlightenment, understanding the world around him. Ok, it's not meant as a positive thing, after all, he is decidedly mentally ill and this mental disquiet is compounded by a seemingly continuous drip fed series of anxiety, antagonisms and abuse from his fellow man, work and home life. Towards the end of the film, Joker has an epiphany! There is a significant change to his focus, confidence and demeanor. A super-villain is born. The Joker's evil deeds becomes a kind of integrity. It was wonderful to see and the people of Gotham were inspired.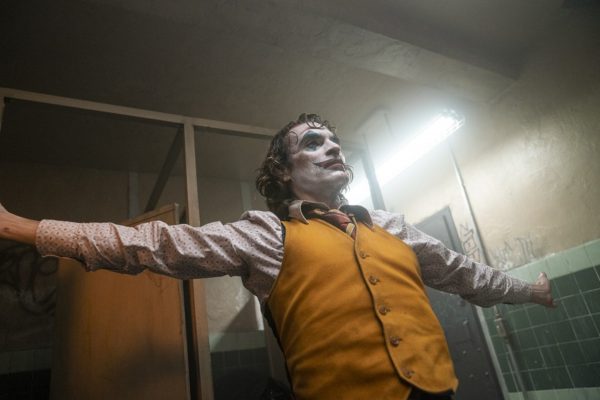 I found myself empathising with the character and laughing at inappropriate moments. Some of the other film goers were a little surprised (and one or two a little uncomfortable) that I would start laughing when there was some particularly horrific scene perpetrated by the Joker. My outburst was simply an empathetic letting-off-steam following a scene of revenge or justice. I was moved. It's difficult to explain – it was definitely an peculiar experience.
I thought the film was terrific and I'm hoping that Warner Brothers and DC Films will take note and add some extra 'grit' into future Batman film characters.
Recommended? Hell yeah! – Jeez, I just learned it's already taken a Billion dollars at the box office! Not bad for a film that only cost $53 million to make!
I'd rate this a magnificent 9.3 out of 10.
What did you think? You can rate the film yourself by selecting the User tab at the top of the page and rating the writing, acting characterisation etc. Let us know what you think!
The images, story and everything associated with the film is the property of Bradley Cooper, Todd Philips, Emma Tillinger, Warner Bros. Pictures, DC Films, Joint Effort, Bron Creative, Village Roadshow Pictures all rights reserved.
This review is copyright Tony Fawl and not for reproduction without permission