Posted
17th July 2019
in News
Latest Kings Avatar Rumours (Quan Zhi Gao Shou)
Kings Avatar Latest News – September 2020
It's back! Quan Zhi Gao Shou (The Kings Avatar) anime season 2 will launch on 25th September 2020 in China.
See the article here: https://sadgeezer.com/kings-avatar-quan-zhi-gao-shou-anime-season-2-release-date-announced/
News – November 2019
The Kings Avatar live action drama has  been renewed and they are currently planning Season 2. Yang Yang has been confirmed but I haven't any news yet of other stars.

Tencent video  received over a billion views of the episodes from their channel and its renewal was almost guaranteed. Even western streaming channels like YouTube and WETV managed over 1 million views – and that was with the crappy subtitles!
There was a little controversy about the Yang Yang re-appearing, but this was soon clarified and he is the first to be announced reprising his role.
See the "Will Yang Yang return as Ye Xiu in The Kings Avatar Live Action TV show" news article.
I'll post more news as I get it.

Latest: 21st October 2019
I finally found a Season 2 Teaser Trailer.  I'm sure this is genuine, but it seems a little miss-timed as the release date seem much later than we have been anticipating.
Kings Avatar Animation Season 2 Release Date Rumours:
There are currently two rumours.  The first is that the animated season two will air in the first two weeks of November 2019.
The second rumour – and this is backed up by the Bilibili website and MyAnimeList, is that the Animated Second Seasons will not air until 2020 – a specific date hasn't been given.
There is no other information and this is very disappointing for fans of the animated series who have had to suffer delay after delay and lots of missed deadlines.  I'll post updates here as soon as I hear anything.
If you are interested in seeing all the posts on The Kings Avatar.  The full The Kings Avatar News and Reviews page has links to all the Kings Avatar news and reviews on the Sci Fi SadGeezers website.
Kings Avatar For the Glory Animated Prequal Movie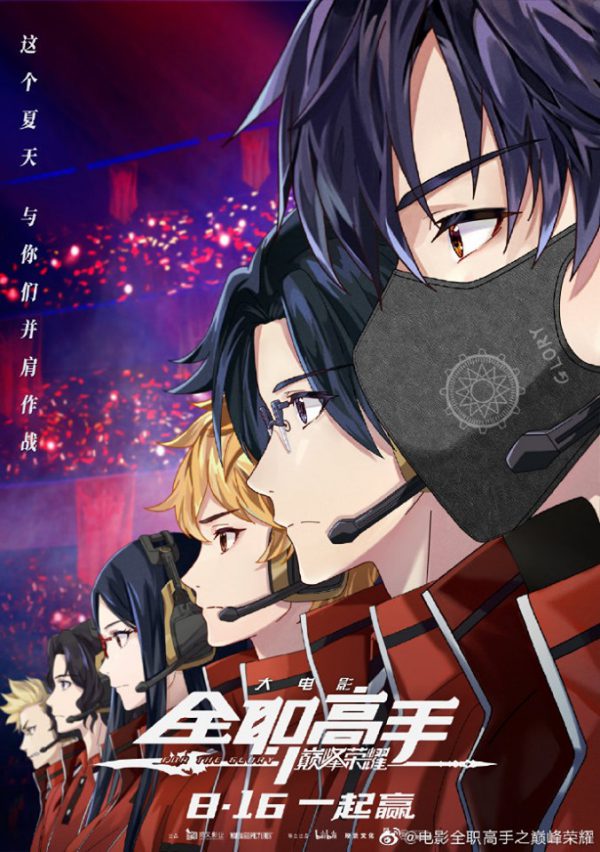 The August 16th is pretty much official if you can believe the poster!
The second season of Quan Zhi Gao Shou (The Kings Avatar) will not be 24 episodes.
It will only be 12 episodes.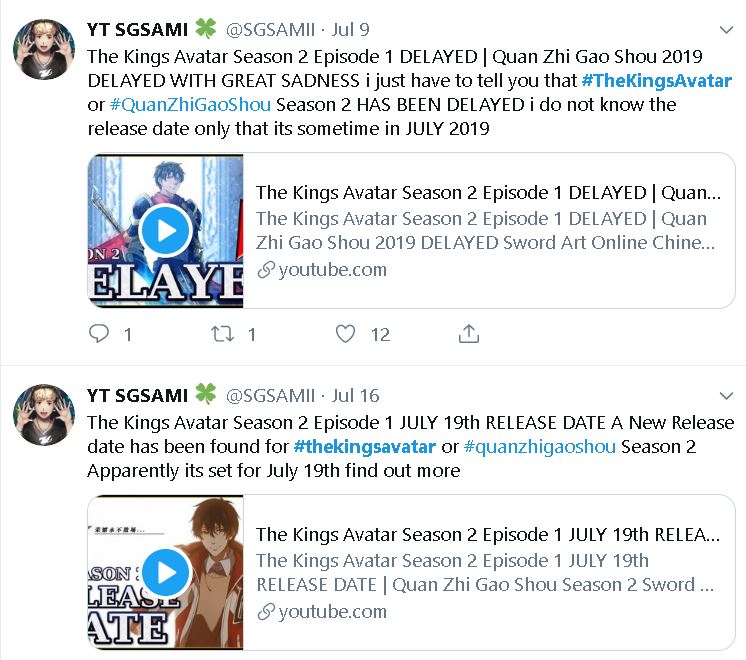 The Kings Avatar live-action TV Series
The live-action series will air on 31st July
Or maybe it could be on 24th July?  According to the Lead actor from the show (YangYang)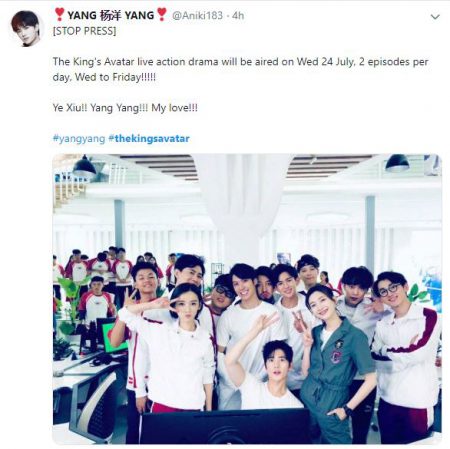 Just to be clear – there is no official news yet about when these shows will air – there are just a lot of us feeling left in the dark about it  – it's a bit annoying to be honest, such a good show and so little information about it.  I'll keep posting news as I hear it.
(Update: 19/07/2019: Background info on the show, manga, novel, film and second season of Kings Avatar (Quanzhi Gaoshou) – special news post here)