Posted
7th October 2019
in Anime
Summary rating from
1
user's marks. You can set own marks for this article - just click on stars above and press "Accept".
Accept
Carole & Tuesday Anime Series – Recommended!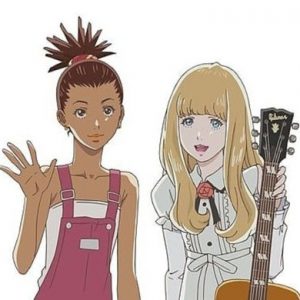 This is an Anime review of the Carole & Tuesday series – a story about a musical cutie duo set on a terraformed Mars. Tuesday Simmons, (from a wealthy and politically powerful family) runs away from a stifled existence at home.  She meets her soul buddy, Carole Stanley a struggling part-timer who likes to play music but finds it difficult holding down a job. The guitar and piano playing duo rise to stardom with style and a healthy amount of cuteness – but the sci fi backdrop is truly inspiring!
Shinichiro Watanabe is the director and influence certainly shows.  He was, you will remember, the director and major influence in the success of the super-cool anime's Cowboy Bebop and Samurai Champloo (amongst others).  He has excelled with this saga which is co-produced by Fuji TV and Netflix.
Carole & Tuesday, what's it like?
It's a great mix of two different styles of anime.  On the one side, you have the hard sci fi realism of a terraformed Mars with a heavy reliance of AI and robotics that is prevalent throughout the Mars society.  And on the other hand, it's a melodramatic tale of two young women who realise that they are not alone in their appreciation of non-computer-generated music and have the creativity and ingenuity to make music together.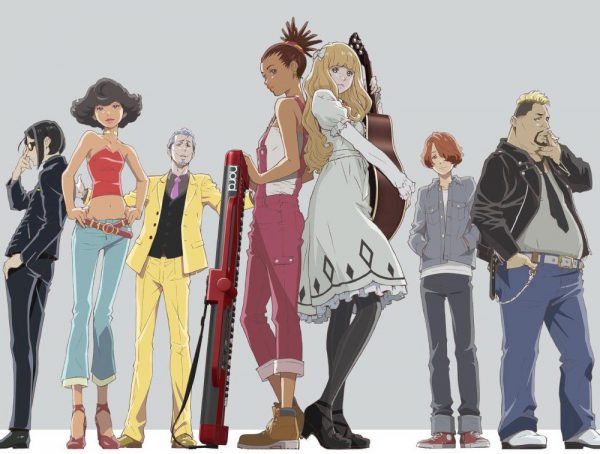 The characters of Tuesday and Carole and the secondary characters too are rich and varied.  There isn't so much clearly defined evil and good character, all have good and bad sides, and all are basically just trying to get on. It was quite refreshing to watch and at the same time relate-able – it clearly lives in the grey areas but with a colourful backdrop of the beautiful amazing Alba City.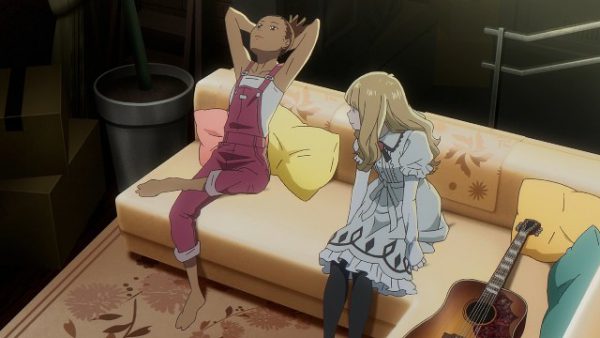 Two of Watenabe's Special skills
The first is how he makes his worlds feel plausible and lived-in. The lifestyle of the two girls (and the rest of the cast for that matter) are shrouded in a warm glow, a sort of positive light that pervades each scene. It makes an alien landscape seem natural and a relatively nice place to be.  I can't really describe it very well but I think the main benefit of the colour and lighting seen in the show was that it was not a distraction.
The best part of the show for me (besides the truly wonderful colour in each episode) is the music itself.  As an old rocker I was dreading the musical element when I started watching, but it was not only diverse and interesting, some of the songs were melodic, innovative and they really held my attention.
This is a fun and easy show to watch, a nice distraction that is relatively uplifting.
Carole & Tuesday – The Backdrop
The story relates to a world where the standard of living is quite high and where the reliance on robotics and the Artificial Intelligence pervasive throughout everyday life. It relies on this to such an extent, that people accept creative media input from AI's which is relatively cheap and easy to produce. Carole & Tuesday are determined to make their own music and the confrontation within the show comes from an AI expert who is determined to improve AI generated/written music by helping a child model become a famous singer.
The titular cuties much do battle on stage with a diverse range of other acts in a competition. The winner will bet a recording contract and become a star(s).
Other Characters include Angela, a child model who is driven in her ambition to be able to transition from child model to singer.  She is ruthless but not evil and personally, I found that refreshing.  Many driven characters tend to be portrayed as people who could easily 'cross the line' and this didn't happen in Carole & Tuesday – it was more realistic and believable as a result and didn't resort to cheap writing gimmicks that over-dramatised the story.
Conclusion
It's a great story well told.  It's fun to watch – and very beautiful. Not just the characters, but the stage and scene settings are really well drawn and engaging.
I highly commend this for your viewing pleasure. It's already going to have a second season and personally, I can't wait.
I'd rate this a wonderful and uplifting 8.8 out of 10?  What do you think. Let us know by rating each aspect of the show yourself. Click the 'User' tab at the top of the page and score each section yourself.
The pictures, characters and everything else to do with the Carole & Tuesday animated series are the property of Netflix, Fuji TV and Shinichiro Watanabe all rights reserved.
This short review is the property of Tony Fawl and not for reproduction without the authors express permission