Posted
16th January 2020
in News
Avenue 5 TV Show Background & Information
Background & Introduction: Avenue 5 is new series which is due to hit our screens early in January. HBO in the US on 19th January and on Sky One and NOW TV on 22nd January.  But although it has the backing of some heavyweight talent (production, writing and acting) behind it.  Most critics seem sceptical about the show because it is going to be…. dare I say it…. a sci fi comedy – probably the hardest TV genre to produce successfully. Currently, I think the show is only 4 pisodes but frankly, that can't be right!  It hasn't started airing yet and reviewers have only been given 4 episodes pre-screening.
The supercool satirist Armando Iannuccii (The Death of Stalin, Veep, The Day Today etc.) is the writing genius behind this one. He has taken his influence from such magnificent classics as the stupendously wonderful sci fi comedy, Hitch Hikers Guide to the Galaxy to produce a short series called Avenue 5. This is a brief background and introduction to the show – it isn't to help you decide if it is worth watching or not – absolutely not!  You should watch it, even the first episode!  Sci Fi comedies are so difficult to do properly, that the makers need all the support they can get – even if it's to just initially, to check the show out.  Please give it a try.
Avanue 5 – What is the show about?
It's a comedy set in the near future when space tourism is a 'thing'. The story is about a semi-automated space ship called 'Avenue 5'. It's a luxury holiday cruiser for paying guests to experience travel around the solar system.  Of course, there needs to be a Red Dwarf 'esque catastrophe and within minutes, a technical fault causes explosions and serious damage to the ship (actually sounds quite scary). The ship goes off course and a new predicted cruise duration is 3 years.
The ship's crew is led by Captain Ryan a dashing swashbuckler (played by Hugh Laurie).  He is accompanied by the owner and money man played by Josh Gad and they attempt to calm the passengers amid the disaster that is developing. Passengers become increasingly exasperated as they gradually realise, they are lost in space.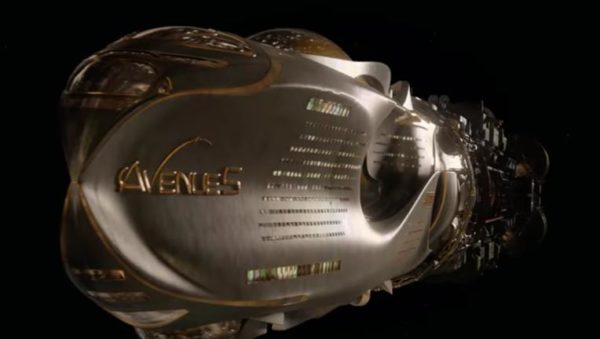 Background: Avanue 5 – Is It Funny?
And this is the rub, a sci fi comedy needs to be funny.  That's such a patronising and irritatingly obvious statement. Yet the cerebral nature of the sci fi genre means that a science based 'sit com' idea is excruciatingly difficult to get right. The comedy series Red Dwarf are the only ones that managed it and in sci fi sit coms, the writing duo of Grant and Naylor have never been bettered.  A Red Dwarf episode such as "Back To Reality" needed to portray not only social satire and science humour but force us to consider concepts that were entertainingly outside our normal sphere of understanding – all without dumbing down the science too much. It's excruciatingly difficult to do.
Personally, I think that the show will suffer in the first few episodes as it tries to find it's feet.  That balance of science and humour will be so hard to get right initially, that it may put many people off. To be honest, the first season of Red Dwarf was relatively unimpressive. The writing team are aiming to play to their strengths. The focus of the story will be about a bunch of charlatans trying to comically mislead in increasingly sceptical group of passengers. Although Armando Iannuccii's inspiration seems to be The Hitch Hiker Guide to the Galaxy, that story is far too conventional to compare. I suspect that the humour will be far more focused on sharpness that wackiness.  I just hope they manage to ad that essential ingredient, warmth.
Background: Avanue 5 – Are the Cast any Good?
If the humour is going to let us down, we are sincerely hoping that the cast will lift us up.  Many critics agree, this cast is great – possibly exceptional.  Hugh Laurie is a seasoned comedy actor of considerable charm and experience and is great in this role.  The others too, are worth a mention.  For instance, Daisy May Cooper (from the BBC mocumentary This Country) for her role as a disgruntled passenger Sarah. Zach Woods plays Matt, the Head of Passenger Services. Iris (Suzy Nakamura) is the anal deputy to the silly owner full of crazy ideas, Herman Judd (played Josh Gad).
So in concluding your background reading for the Avenue 5 TV show, it seems that the series will be a little more metaphysical than slapstick and maybe that will be its saving grace.  Maybe the humour will be more about meeting the 'Dish of the Day' at Milliways than the comedy of trying to have dinner with Legion using a pair of his anti-matter chop sticks.
Anveue 5 looks really good but might be a little too sharp – it may actually stab itself in the back!
For more info on Sci Fi Shows airing, checkout the Sci Fi SadGeezers Sci Fi Forums
The story, pictures and everything else about this show are the property HBO, Sky One, NOW TV and Armando Iannuccii. All rights reserved.
This review is copyright Tony Fawl, not for reproduction without permission.