Posted
11th November 2019
in TV Show
Summary rating from
1
user's marks. You can set own marks for this article - just click on stars above and press "Accept".
Accept
The Kings Avatar Live Action (Quanzhi Gaoshou) Episode 24 Review
This Kings Avatar episode Review and recap covers episode 24 which deals with the continued negaciation of the character introduced last week, Wei Chen. He is, or is going to be Team Happy's new Warlock. He was first introduced to the saga in the previous The  Kings Avatar episode and most of this episode deals with his background and how he will become an important player in the team.
The team is only recently established and they are only half full in terms of professional player in the roster. They need to be in a position where they can compete with other more established Glory guilds in the next tournament, the Season 10 Championship.  It's good to have the great Ye Xiu as the Team Captain, but the other team members also have to pull their weight.  Their excellent healer An Wenyi is great at spot heals for instance, but he doesn't yet know how to dispel debuffs (something only Ye Xiu knows – and something he has promised to teach him).  Qiao (aka Wimpy) Yifan, the deputy Captain, has severe (almost debilitating) confidence problems and this could end up being a real problem until it's sorted out.
The reason for the recap is that the team is now in a position where young and exciting players are a problem, they need someone who is more mature and experienced and can help bring on the newer talent in the team.
Enter Wei Chen.
As usual. If you need a recap of any of the episodes so far, all the previous Kings Avatar episode reviews are here: Kings Avatar Live Action News & Reviews Thread.
Kings Avatar Episode 24 – Summary
Wei Chen heads over to Team happy to scout out the place following the offer from Ye Xiu to come and join his team.  There is quite a bit of stupid banter between Wei Chen and Ye Xiu.  They are sounding each other out to see how good a deal they can get for Wei Chen joining the team.  Lots of unfairness, trickery and silliness eventually results in Wei Chen joining Team Happy.
I can't say it was a happy reunion, Ye Xiu has cheated Wei Chen out of his main weapon.  No doubt there is some very good reason for treating a respected, mature, new recruit to the team – it's just that I can't work out what that is yet.
Wei Chen by the way was once the Team Captain of a major Glory team and in this episode they all meet up again!
The final round of the mentor competition begins.  They need to achieve a 5 point gain if they are to progress to the challenge part of the competition. Ye Xiu decides to play dirty with Wei Chen.

Kings Avatar – Players Appearing In Episode 24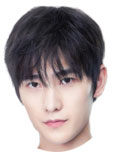 Name:  Ye Xiu
ID:  Lord Grim (Jun Mo Xiao)
Class:  Freelancer
Guild:  Happy (Xing Xin). Once known as God Ye Qui when he was with Excellent Era (Jiashi).  He currently works for Chen Guo as the Team Captain for the new Happy Guild (Xing Xin) and raiding team and as the  Network Manager in her Internet Cafe.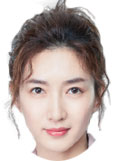 Name:  Chen Guo
ID:  Chasing Haze
Class:  Gunner
Guild:  Happy (Xing Xin). Manager Happy Internet Cafe and Guild Master of the Happy Guild.   She now manages Ye Xiu as a Network Manager in her Internet Cafe and Team Captain in the Happy guild (Xing Xin). She is a very enthusiastic supporter and player of Glory although we rarely see Chen Guo win a match. Her pet name of GuoGuo by Tang Rou.

Name:  Bao Rongxing
ID:  The Invader
Class:  Ranger/Brawler
Guild:  Happy  (XIng Xin).  He originally worked in a warehouse. He has an unusual way of playing but quick and agile fighter with a good sense of spacial awareness.  His ambition is to game professionally which has only been realised (so far) by playing for Team Happy. Sao Rongxings old character was called Steamed Bun.  His nickname is Bao Xi.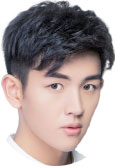 Name:  Qiao Yifan
ID:   Ashen Moon
Class:   Assassin
Guild: Happy  (XIng Xin). Considered a very weak player in his old guild Tiny Herb (Wei Cao) and not usually picked for any team activities.  He decided to change class and leave to join Happy (Xing Xin).

Name:  Luo Ji
ID:  Mei Guang
Class:  Cleric
Guild:  Happy (Xing Xin).  The Guild tactician, he is very good with statistics and calculating probability.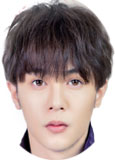 Name:  An Wenyi
ID:  Cold Hands
Class:  Cleric
Guild:  A new addition to the Xing Xin team as a cleric.  He has some issues with decursing/debuffing, but is considered a good enough player (by Chen Guo and Ye Xiu) to join the team.  Can be quite dishonest nature and lied about his abilities to get into the team.  An Wenyi isn't frightened of being bitchy with the team vice captain but then again, nobody else is either.

Name:  Wei Chen
ID:  Windward Formation
Class:  Warlock
Guild:  Highly respected professional player. Very experienced and the previous team captain of Blue Rain.  He was therefore the previous account holder of the Swoksaar character (currently played by Yu Wenzhou).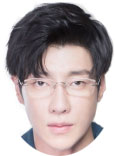 Name:  Yu Wenzhou
ID:  Swoksaar (aka Su Ke Sa'er)
Class:  Warlock
Guild:  Blue Rain (Lan Yu).  Very highly respected player and venerable team captain of Blue Rain.  Accomplished tactical player known as one of the Four Tactician Masters in Glory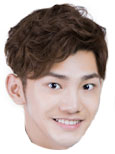 Name:  Huang Shaotian
ID:  Troubling Rain
Class:  Swordsman
Guild: Blue Rain (Lan Yu).  Vice-captain of Blue Rain.  Is sometimes used as a weapon to disorientate his opponents with his quick speech and aggressive, antagonistic banter.
Kings Avatar Episode 24 – Review
The show continues from the last episode with the comedy music playing.  Wei Chen is cautiously checking out Chen Guo (aren't we all!) not only because she is drop dead lovely, but also because he wants as much info on the Team and it's circumstances (finances, contacts with the Glory company etc.).  He justifiably needs to know if it's worth stopping his existing business (unimpressive though it may be) and joining Team Happy.  He grills Chen Guo by asking he lots of questions.
Wei Chen (in the manga at least) is known as being a bit of a womaniser and I'm impressed that he doesn't make any lewd or lecherous comments to the lovely Ms Chen. Indeed Chen Guo patiently answers his questions without trying to put too much of a positive spin on them.  It's nice to see at least one person not trying to trick people into joining the team! 
On the other side of town, Ye Xiu is at the Chen Wei's place chatting with his catty subordinates.  They tell Ye Xiu that Chen Wei basically lives for the game (Glory) and that he is still playing a Warlock.  Chen Wei seemed to indicate to Ye Xiu last episode, that he wasn't really interested in playing Glory anymore and that he had moved on and was running a successful business.
The Happy Captain of Team Happy finally finds Wei Chen Achilles HGeal, one of Wei Chen's colleagues shows Ye Xiu a replica of his in game weapon, a silver level warlock staff.  Ye Xiu will use this information to entrap Wei Chen to play for Team Happy.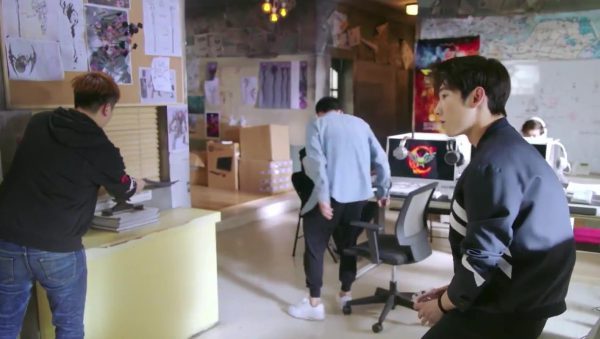 Ye Xiu smiles.
Back at Team Happy
Wei Chen is clearly enjoying the chat with Chen Guo. She is being her usual open and honest self and tells We Chen that although she owns the Happy Internet Cafe, she doesn't have a lot of money and she doesn't have any special connections with the Glory League.
She goes on to say that if they include her, the team has a total of 8 members.  Only Ye Xiu is an established player but the rest of the team enjoys great potential.
You can see by Wei Chen's face that he isn't quite as impressed as she is.  I think he may have been bracing himself to become part of Jiashi or something.  He is also trying to find the online location of Jun Jun Moxiao – he and his colleagues have a deep desire to beat Jun Moxiao and no matter how he tries to get the location of Ye Xiu's character from Chen Guo, she doesn't provide it.
Personally, it wasn't that obvious that it's what he was trying to get from her!
He snoops around a little before returning back to his office.  By this time, Ye Xiu has left too.
Back at Wei Chen's Office
His colleagues are delighted to tell him that they have located Jun Moxiao.  Wei Chen logs in to do battle.   The aim is to gank Ye Xiu's character BIG TIME!  Ideally after he has been healed and after they have chased hi to a common area……  yeah right, anyone watching just know's that isn't going to happen.
Poor deluded Wei Chen gathers his buddies and Ye Xiu (knowing now what to expect) waits for them at Zone a in Miluo Ancient City.
The scene is marvelous.  It's a sort of broken bridge on arches that seem to go on forever.  The battle begins and frankly it was a bit silly.  Ye Xiu seemed to be in control throughout and when he finally managed to entrap Wei Chen, he got his pal Qiao Yifan to finish Wei Chen off.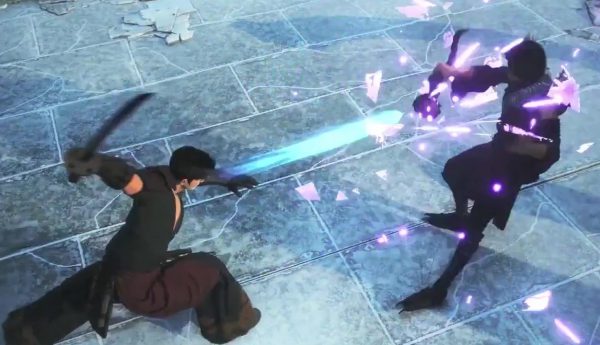 Then, to add to Wei Chen's misery, he takes his silver level staff  and leaves the arena.
Wei Chen is horrified.  Laughably, I think Ye Xiu still wants Wei Chen to play for Team Happy but with all the trickery and nastiness going on, it's hard to see how these two idiots would actually want to fight for the same team.  Again, apologies for any poor translation or culture differences, it just an implausible fight done badly and for all the wrong reasons.
I nearly threw my beer can at the TV.  Sometimes it is very difficult to get behind the characters in this saga. In real life we would just laugh at them and move on.
Idiocy to Lunacy
Then the next piece of the story is when Wei Chen walks into the Happy Internet Cafe with his colleagues and demands his Staff back. (They refer to it in the subtitles as a wand but it looks more like a staff – or a club).  They are all dressed in suits and trying to look cool.  I'm assuming that they intend to intimidate the Happy Team to get the wand/staff back.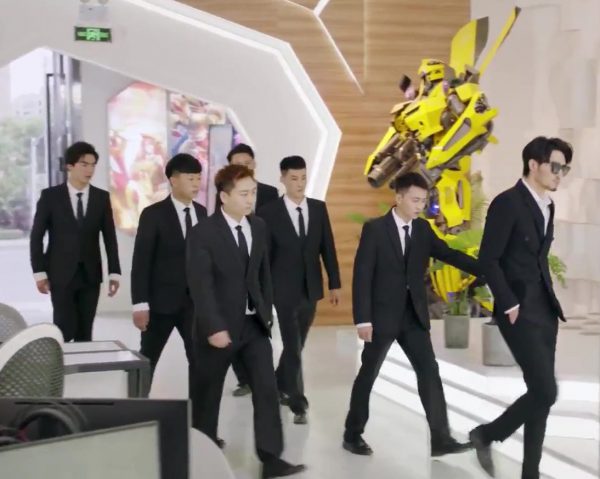 The first person Wei Chen meets is the lovely Chen Guo.  He tries to intimidate to get Ye Xiu to come out of hiding.  Chen Guo is not intimidated and calls Wei Chen a 'little fan'.  Lol, that was actually a pretty good line considering what happened after the first time they met.  🙂
Eventually Ye Xiu comes out and there follows some silly threats and banter. Ye Xiu tells Wei Chen that he will give him back his wand if he helps them get through the next stage of the Mentor Challenge.  Ye Xiu's point is that the wand/staff is far too good to use for the way he is playing the game  nowadays (Wei Chen currently just uses it for bounty hunting).  He should return to competition and use it's power properly.
Wei Chen realises that he isn't goiing to get his wand back and sets out to leave. As he attempts to walk out, he overhears the Happy Team talking about dismantling the wand/staff for parts.
It's all just a bit of fun to them I guess.  It's pretty distressing for Wei Chen though as it took him years to get that weapon and upgrade it etc.  He quickly returns to Ye Xiu's table and makes the deal.  Ye Xiu smiles in satisfaction.
Smug wins over Distress
I'm still having trouble understanding how half of the players want to play in Team Happy.  This team is run by a tyrant who seems to enjoy bullying and  winning by tricks rather than honestly support.
I'm not sure why the producers went for this approach, I guess it is more dramatic but it's also very unrealistic and frankly, a little stupid. 
Containment is not Old Fashioned
Wei Chen says goodbye to his old colleagues and hands over his jacket (it needs to be returned to the shop).  He goes back inside and heads for the team conference room where there is a discussion about the tactic, 'confinement'.
Wei Chen explains the tactics to the team and in particular, that it is a modern tactic – not old fashioned.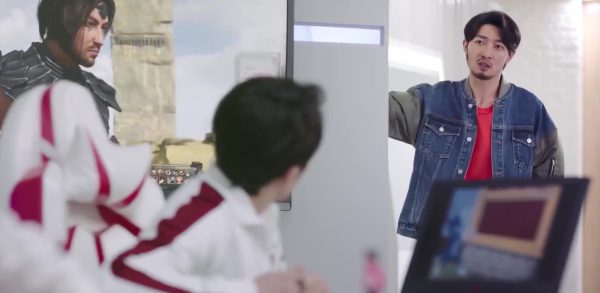 He decides to demonstrate how the use of the confinement tactic is beneficial.  He challenges the team to a fight, or more particularly a race to the top of a tower.  Whoever gets to the top first will win.
On your marks, get set…..
Go…..
Of course Wei Chen just sits down and waits for them to build up a lead.  He explains a number of rules concerning confinement – all of them are bullshit of course, but he was, after all, just making a point.
His point was that he knew how to play his class and he was an opportunist.  He was able to analyse the situation and take advantage of each of his opponents.  He used each of them as stepping stones after first engaging some pretty hefty AOE spells (area of effect – wide area of damage).  The thing about a Warlock, is that they can use a lot of AOE spells as well as focused damage.
Of course, he gets to the top first and his budding colleagues look on dejectedly – Team Happy!
Just Give Up Dude!
Armed with a smug expression and an idea for getting his main weapon back, Wei Chen hunts out Ye Xiu.  He is chatting with Chen Guo about finances and he quickly tries to get to speak with Ye Xiu by flirting with Chen Guo.  Chen Guo leaves quickly and Wei Chen tries to explain that he should just give up on the guild idea.  The young members of the team aren't good enough and it is pointless to continue.  He should just return his weapon and everything could be quits.

Ye Xiu doesn't, of course, believe his motives.
At the Tournament
As the team enters the arena, Wei Chen learns that he will be fighting against Blue Rain (Lan Yu).  This was his old team. He was, in fact, their Captain for a time and previous owner of the Swoksaar account that is now played by Yu Wenzhou.  Wei Chen left the old team because he wasn't as good as Yu Wenzhou and rather than stay and be embarrassed, he handed the account to Yu Wenzhou and left the guild. He team still fondly remember him though and have a great deal of respect for him.  However, I think that Wei Chen is embarrassed by the way he left (i.e. not being good enough).
Wei Chen is upset at learning that he is to fight his old friends and calls Ye Xiu a bastard for making him do it.  He begins to leave the arena when he is met by one of his old subordinates, a player whom he was previously a mentor to, Huang Shaotian.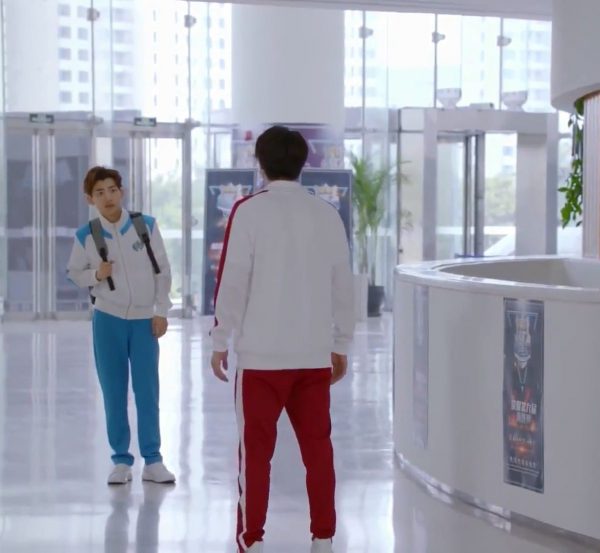 Then Yu Wenzhou and the rest of the team notice him and all are pleased to see him.  It was actually quite touching.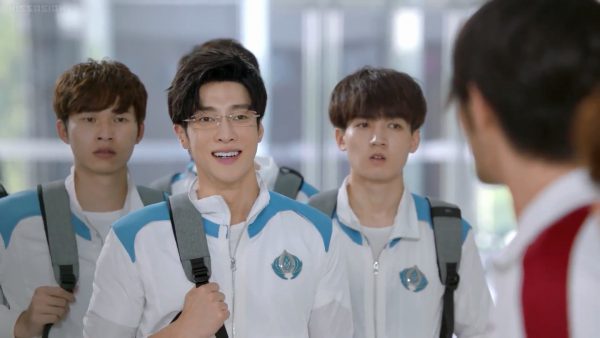 Wei Chen is still annoyed at Ye Xiu for not telling him, that Team Happy would be fighting against his old guild. Ye Xiu, in his defence, told him that the reason was that Lan Yu were a tough team to beat.  I guess he didn't want Wei Chen to leave before the match started.  He certainly showed no remorse.
When Wei Chen asks for his wand/staff back (he calls it the Wand of Death – you would certainly die if you were hit over the head with it, it's less of a wand and more of a club!), Ye Xiu denies him and gives him a very poor substitute instead.  It's possible that he still thinks that Wei Chen will leave as soon as he gets back his weapon but he also thinks that the weapon isn't suited to Wei Chen.
Wei Chen is unhappy at being given a low grade weapon and is convinced he will not make a very good contribution to the fight.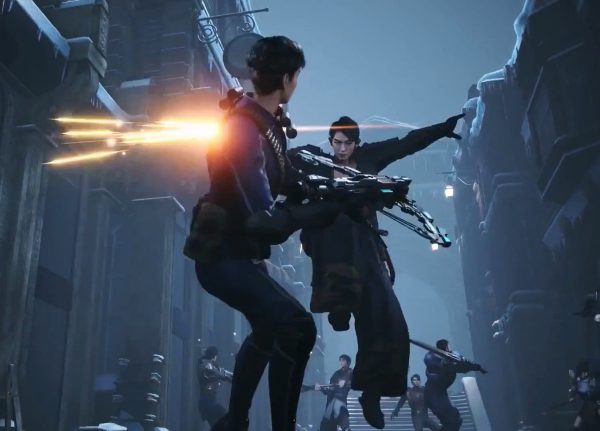 Qiao Yidan opens the attack on the Lan Yu team and looks considerably more confident.
Huang Shaotian is fighting Ye Xiu and loving every minute of it. His banter is as good as usual and he hounds Ye Xiu with cutting and disrespectful remarks.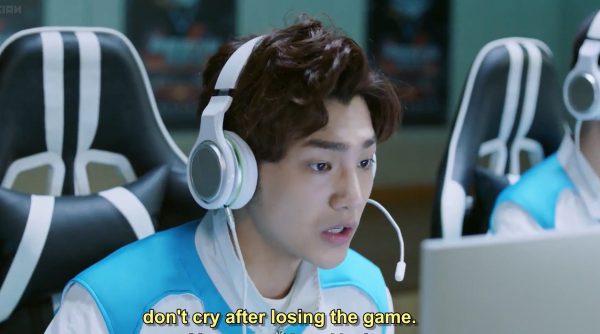 Ye Xiu runs away!  This really annoys Huang Shaotian who tries to run after him.
There is lots and lots of fighting – all except for Wei Chen, who just plays hopscotch and sits around.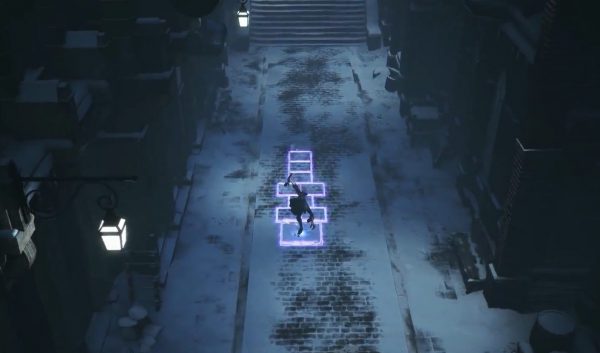 He is finally caught by one of the Lan Yu players who is proud of himself for making a 'sneak attack'.  Little did the unsuspecting player know that this is Wei Chen's style of play.  Ye Xiu comments that it is Wei Chen's style to be caught and hit.  I'm not sure if it was sarcasm or fact!
Ye Xiu manages to trap Huang Shaotian in a narrow alleyway and Wei Chen is aided by Qiao Yifan.  Hopefully we will now see some proper gameplay rather than just banter.
And of course, this frustrating episode ends with an unresolved fight!
Team Happy and Lan Yu both look relatively evenly matched.  They also don't look like they are taking it very seriously.  It may be that they are just enjoying playing against each other.  It seemed pretty unrealistic considering the stakes.  I guess we will find out who is the most serious in the next episode.
Kings Avatar Episode 24 Review – Conclusion
I honestly can't believe how long it took me to review this episode.  It's one of the longest reviews I don't for this or any other episode.  It has 18 video captures images and wasn't a particularly good episode.  There seemed to be a lot going on which was good, but there was also a lot of frustrating banter and silly dialogue that seemed unrealistic and unnecessarily antagonistic.
If I was to remember the episode (and it is relatively forgettable) it would be because of the poor screenplay.  The writers continue to add drama elements that just don't fit!  Building a cohesive gamer team where they all have to rely on one another to overcome some very high odds is hard enough without the lead player acting like a total git all the time.
Maybe I'm just too sensitive.  Like I said, there was a lot going on but this is most memorable for the stupid dialogue and unrealistic storyline.  The Wei Chen character could be really interesting if they just let him be a mature gamer.  If they keep making him into some prideful fool, it's just going to get embarrassing.
It was poorly characterised, stupidly directed and written by someone who was trying to squeeze more drama out of the show by making the lead character act like a git.  I'd therefore give it a lowly 5.2 out of 10.  Hopefully the next episode will be better.
What did you think?  Why not let us know what you thought by clicking on the Users tab in the review block at the top – right of this page (you don't need to register) – we'd love to see what you thought.
See more details of this on the Kings Avatar thread of the Sci Fi forum
The pictures, story, news details and everything else about the Kings Avatar Live action TV series are copyright Tencent Penguin Pictures, Linmon Pictures and Phoenix Entertainment. All rights reserved.
This article is copyright Tony Fawl and not for reproduction without the authors express permission.