Posted
21st December 2019
in TV Show
Summary rating from
3
user's marks. You can set own marks for this article - just click on stars above and press "Accept".
Accept
The Witcher TV Series One – First Impressions Review
First Impressions Introduction.
I've just managed to binge watch the first season of The Witcher. I've been waiting to do that for a few months and my first impressions – I really enjoyed the shows – all of them! Geralt was marvelous. Even the first three episodes which were definitely the weakest. If you are looking for a recommendation from this Witcher TV Show Review – watch it! You wont be disappointed.
Judging from what others thought too, it's a cracker of a series! Checkout the initial The Witcher Consolidated Ratings for each Episode from Fandom here:
This is the first season and it only has eight episodes. The show is based on a series of books that were written in the 1980's and 90's by a Polish author Andrzej Sapkowski and it does a pretty creditable job sticking to the story. Erm, fairly well. The TV show changes some bits but Andzej Sapkowski did actually consult on the show so I guess the changes are with the authors permission.
Personally, I feel a little uncomfortable with this Witcher TV Show Review I think the TV show is pretty good and the books are pretty crappy with a large number of ambiguities and many areas where the plot is poorly explained. The video game brought the whole sage to life and the TV show turns it into epic!
Don't get me wrong, the story and story idea are wonderful and I'm definitely a fan of the books, but for this reviewer, the TV show is currently the best version of the saga – and it can only get better!
The Witcher First Impressions Review
For those new to the series (erm. you could do worse than checkout my intro and background article here or initial The Witcher News article HERE)… This is a show about Ciri a teenage princess 🙂 Lol, you didn't expect that did you? You were expecting a saga about the big-and-rough-and-tough Henry Cavil character after seeing him plastered all over the internet wearing a gray wig and looking all menacing ….. and BIG.
Well it IS as story about a princess. Yes, the The Witcher certainly tied into it all by – fanfar, loud trumpets, cheering…. Destiny! (you'll understand the fanfare comment when you watch the episode, I swear, the word Destiny is DONE TO DEATH! I asked my wife if she wanted a drink while we were watching the show, "yes, please, can you make mine a glass of Destiny!")
When I get round to writing reviews of each episode, I swear I'm going to do a "Destiny count".
To put you all out of your misery, this first season is all about how Ciri, a young Princess, becomes the ward/adopted daughter of a monster killer (known as a Witcher). It's also the story of how The Witcher meets his lovely wife , Yennefer
Witcher TV Show Review – Lots of refreshing stuff
One of the refreshing aspects to the series is that the story isn't about good versus evil. Good and evil aren't as clearly defined. One of the best things about the books is that Geralt, The Witcher makes no judgement. He rarely has an opinion about what is good and what is bad and therefore is available to take any side. That isn't quite true of the series, but it's pretty close.
Season one doesn't cover the complete saga, far from it! Although the show is jam packed full of action, interesting stories and sub plots, the action is literally just starting. For instance, season one is set approximately 10 years before the video game (Witcher). It's all about how Ciri meets Geralt, the Witcher and why. And it's also about 'the making' of the Mage/Sorceress, Yennefer.
The pacing for the show was pretty good – there are very few parts where you might be tempted to fast forward a little – personally, that is a litmus test for the quality of a show in an age when there are 200 channels and countless web pages for media to digest.
This show is definitely comparable to Game of Thrones. – we all considered the comparison, don't pretend you didn't. But equally, we probably thought that this wasn't quite up to the same epic saga standard. I think that is a production thing, it certainly isn't because of the poor writing, casting or special effects – all of which were wonderful.
The Witcher – Official Trailer
The Witcher TV Show Review – What was Good?
Henry Cavill was truly outstanding as the titular monster slasher, Geralt and the lovely Anya Chalotra played Yennefer very, very well. I was amazed that someone as buxom and aggressive in the video game could be played as well by someone who is actually much more slight and frail in real life. Maybe that is down to the actresses screen presence. She and Henry Cavill were perfect for their respective parts. The two had a great chemistry in the scenes that they had together too.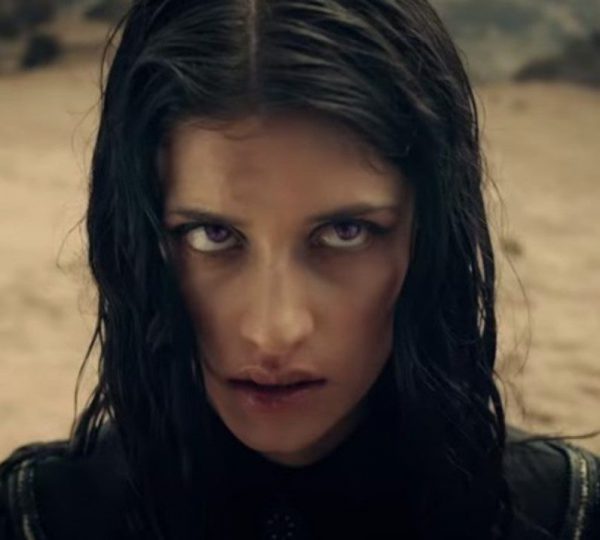 I'm still not sure about Ciri. The actress, Freya Allan was great to watch but nothing like I imagined in the game. In the TV show, she plays a teenager and is nothing like you would expect from the game – that can be a bit jarring.  Yes I know, the obvious reason for this is because the story so far is at least 10 years before the Video Game!  Still, it's nice to know that Ciri will …. erm… fill out a bit  – sorry, couldn't resist. 🙂
There are a lot of crappy reviews of the series on Rotten Tomatoes (after only a day after the release!) and lets face it, we generally only go to that site to disagree with those hateful idiots that are paid to criticise. However, one criticism that was particularly harsh was that of the awesome bard, Jaskier played marvelously by Joey Batey. In the games, this character was the very popular Dandelion. The books for some fucking stupid reason call him Buttercup (!?!) In all three versions, he is great! In the TV version doubly so – and his character gets better with each episode. It seems that at the time of writing, many of the critics had only seen a couple of the episodes.
The Witcher TV Show Review – The bad bits
You may find that you need to do your homework. Maybe you are reading this article to do that very thing! Many of use might consider that we shouldn't really have to do that for a sword and sorcery series, but in these modern times, it seems to be the norm. 80% of the people who are reading this first impressions review are doing so on their mobile phones while doing something else – some of you are reading this while watching the actual show. It's a sign of the times and I do it myself. These days, it's a part of how we digest our media and some of us don't like that.
Its really difficult to say the show is actually really good….. Too much nudity ….. possibly…. naaa that's silly – in fact some of the ladies (I know of at least two at work, who will say that Henry didn't get his kit off enough). Oh yeah and we were mildly miffed that the golden dragon dudes two drop dead gorgeous warrior lady-friends didn't get together in the bathtub with Geralt as they did in the books….
OMG!  There was no Gwent in ANY of the episodes – wtf!  Or was that a good thing  🙂  (Gwent was a card game that was played between characters in the video game).
Erm.. the timeline(s)
Wait, I know, I can absolutely guarantee that you will be wound-up (seriously, you might even swear at the screen….) by the disjointed story arc in the first few episodes. And yet, you might, like me, grow to love it! Essentially, we are seeing three stories being told in parallel. It isn't made clear that these stories have completely different timelines. This approach makes the show hard to follow and at the same time, frustratingly intriguing.
Between episode one and episode eight, Ciri's story is spread over a few weeks. Yennefer's story is spread over about 100 years and Geralt's story around 50 years (but his timeline, may be even longer). The fact that Geralt ages slowly and Yennefer ages much more slowly can be very confusing.
Another bad thing, Not enough nudity, obviously – I'm a Sci Fi/Fantasy SadGeezer, nuff said.
Last negative – Some of you will not be able to stand hearing the word 'Destiny' for a few weeks after watching the series.
Conclusion – The Witcher TV Show Review
As you can probably guess, it's a hour after the last episode has just been watched and I'm sill pretty excited. The show has all the gratuitousness you could want (definitely on par with GoT but surprisingly less nudity) and a well acted rip-roaring sword and sorcery script. If you like that sort of thing, you will most certainly LOVE this.
I'm really looking forward to writing the episode reviews over Christmas – can't wait!.
I'd therefore give this a marvelously awesome 9.3 out of 10.
For me, his is the best new show of the year – yes, even better than New Boys, Mandalorian and Better than Us. hell, it's even pretty close to the magnificent Expanse, Season 4. You should check this out. I strongly suggest a boozy binge watching session over Christmas!
The Witcher is an Czech-American fantasy drama web television series created by Lauren Schmidt Hissrich for Netflix.
The Witcher characters, pictures and everything else associated with the TV show are the property of Netflix, CD Projekt Red, Lauren Schmidt Hissrich and Andrzej Sapkowski.
This article is copyright Tony Fawl and not for reproduction without permission.